No shows today. See full calendar for upcoming show dates.
1
8:00 pm

One Slight Hitch
1
2:00 pm

One Slight Hitch
Subscribe
Keep up to date on everything happening at STAGEStheatre. Subscribe to our mailing list.
Receive information by email on up coming auditions.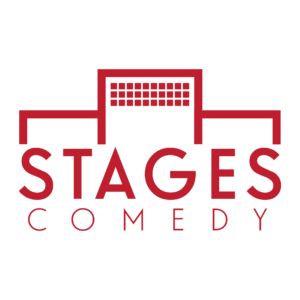 STAGEScomedy is here to make your life funnier. Whether it's through our guaranteed funny shows, high quality classes, or perhaps both, want to be your home for live comedy. STAGEScomedy will produce hilarious nights of Stand Up, Sketch, and Improvisational comedy for your enjoyment. You having a hilarious date or night out with friends will be our priority.
STAGEScomedy will also operate a training center for those who are eager to learn these comedic arts from working professionals.
Saturday April 20th at 5 pm
Monday April 22nd at 8 pm
Live graduate performance from STAGEScomedy's Sketch Comedy writing class. All new, original material written and performed by STAGEScomedy students
STAGESimprov
Introduction to Improv
Tuesday Nights March 12, 2019 through April 9, 2019 @7pm
$199.00 Five Classes plus Two Performances
Instructor Bio
Matt Thomas is the co-founder and owner of Spectacles Improv Engine. Aside from Spectacles, he has performed at Second City, the Pack Theater, and on the iO West mainstage. His passion for improv is reflected in his meticulous study of the craft. He has studied under the likes of Miles Stroth, Craig Cackowski, Paul Vaillancourt, Bob Dassie, Dave Razowsky, Nick Armstrong, Jason Shotts, Dave Hill, Karen Graci, and more.
Class Description
Introduction to Improv will guide students in the basics of improvisational comedy. Students will learn to listen, accept, respond, and have fun in scenes. This class provides a supportive environment for creativity and laughter, as well as a place to meet new friends. No improv experience is necessary to take this class! Class includes two performances in front of an audience at class completion.
Class Outline
March 12, 2019 – Week 1: "Yes, and…"
Students will learn the basics of agreement in scenes, the cornerstone of improvisational comedy.
March 19, 2019 – Week 2: Safe Assumptions
Building off the previous week, students will learn to focus on safe assumptions that can be made about the scene.
March 26, 019 – Week 3: Point-of-View
Students will learn the basics of emotion and point-of-view. These tools make it easier to know what to do and say in scenes, instead of being overwhelmed by possibility.
April 2, 2019 – Week 4: Gifts
Students will learn what improv gifts are, and how to use them to create their character from within the scene.
April 9, 2019 – Week 5: Evaluations
The final week will focus on giving personalized notes to the students based on their work throughout the class as well as preparation for performance.
STAGESsketch
Introduction to Sketch Comedy
Monday Nights March 11, 2019 through April 8, 2019 @7pm
$199.00 Five Classes plus Two Performances
Instructor Bio
Phil Nieto is a graduate of the Conservatory Program at The Second City, Hollywood, where he learned improv and sketch-writing from some of the best instructors in the nation. He performed his final Conservatory show under the direction and tutelage of Ron West. After his graduation, Phil continued to perform both sketch and improv at Second City for several years, performing sketches and characters of his own creation, eventually also lending his directorial voice to several projects. Credits include Ruiz Must Die 1 and 2, multiple runs of Picture Show: The Show! and The Really Awesome Improv Show, among others. In addition to teaching improv and sketch for multiple years, Phil continues to use his training as a member of several improv and musical improv teams that perform regularly in Orange County and Los Angeles, and on stages throughout Southern California. Phil has enjoyed a relationship with STAGEStheatre for many years, both as an actor and improviser, and is excited for the opportunity to continue working with such a wonderful group of people through STAGEScomedy.
Class Description
Step-by-step classes focusing on sketch comedy, premise, structure, scene skeletons, script pitches, casting, Beat sheets and the writers room – all of this work ends with two exciting evenings of live performance!
Class Outline
March 11, 2019 – Week 1: Introduction
Students will be introduced to sketch comedy premise, rules, structure, scene skeletons, and scripts.
March 18, 2019 – Week 2: Pitches and Beat Sheets Part 1
Students will be introduced to pitching, casting, and Beat Sheets (Part 1), as well as improvisation and 1st Runs.
March 25, 2019 – Week 3: Beat Sheets Part 2 and Writer's Room Part 1
Students will continue study on pitching and casting from previous week. Beat Sheets (Part 2) will be covered as well as re-improvisation and Writers Room (Part 1)
April 1, 2019 – Week 4: Writer's Room Part 2 and Re-improvisation
Students will continue previous week's re-improvisation study and Writer's Room (Part 2)
April 8, 2019 – Week 5: Performance Preparation
Students will be preparing and finalizing scripts for upcoming performance.